Our Opening Liturgy for the Year of Mercy
School chaplains taking Advent posters to put up in church.
Year 6 Retreat Day
We would like to thank Fr Lally and the parishioners of Sacred Heart for allowing us to use the Church Hall on Monday for our Retreat Day. We had a great day; we thought and prayed about the coming year and our responsibilities as the top class in our school. We thought about our faith and ways in which God can help us in the coming year. We set our own targets as a Year 6 group and we are going to be inspiring, helpful, joyful, prayerful and kind. There were many more ideas that we have made a poster about. We also had lots of fun and games that made us think about the kind of people we are going to become.
Oak and Ash Classes, Year 6.
Chaplaincy Spirituality Day
On Tuesday, 23rd June our school hosted a 'spirituality day',for 'school chaplaincy teams' for our Corpus Christi Trust of schools. All schools participated and we had a great day. The day was to celebrate our work as 'chaplains' within our schools over the past academic year. We had the day at Sr Dorothy's convent and it was really interesting to be inside a convent and meet other sisters. We also visited St Francis School and the 'chaplains' there, spoke about their Patron Saint St Francis and then we all shared something of our own School Patrons. We also had a new experience of experiencing a 'sensory garden' , where we walked around the big grounds of the convent and used our senses to see, taste, smell, touch and hear the beauty of God's earth. The experience of the sensory garden was led by Year 8 students from St Paul's who are the school's ambassadors. Fr David Cain celebrated Mass for us, the singing was great and Fr David spoke to us of the privilege of serving our schools, through liturgies, leadership and prayer. The day went very, very fast and before we knew it the buses arrived to take us back to school.
Lenten Retreat Day
We had a Lenten Retreat Day in our school. After an Opening Liturgy, led by the children's 'chaplaincy Team', each year group reflected and worked around a specific theme around the events of Holy Week. We started from Palm Sunday, Holy Thursday, Good Friday and the empty tomb on Easter Sunday. Year 6 then gave a short presentation on how Jesus reminded us that to live in happiness, we should try to live the Beatitudes.
In the afternoon, we had a Reconciliation Service in our Parish Church, led by Father Lally and each year group brought something of their morning's work, which led to a beautiful reflection on the Easter Triduum. Some parents came to our liturgies and both parents, staff and children enjoyed the day and said it was a wonderful preparation for the celebration of Easter.
Below are some of the activities that we did.
'Chaplaincy Team'.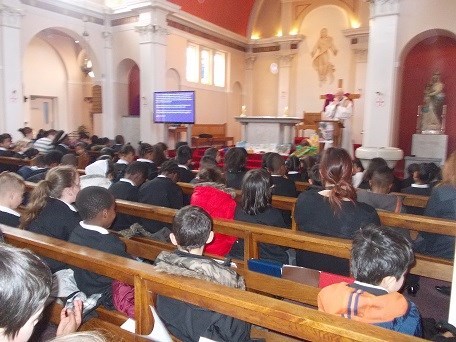 This year our 'Chaplaincy Team' has a target and the target is to spread the Word of God in our School.
We meet with Mrs Cartwright and we are learning about the role of Chaplains. We plan liturgies for the whole school sometimes and also help when it is time for our own class to lead the whole school liturgy.
We worked out for ourselves what we think the role of a 'chaplain' in our school should be and we think;
Our Role as 'Chaplains'.
As 'Chaplains' in our school we will:
Care for everyone in our school.
Help any child we see who needs help.
Aim high to fulfil the Catholic Life of our school.
Pray for children all over the world.
Love Jesus and try to follow Him.
Always live by the Mission Statement of our school.
Involve all the children in liturgies and prayer.
Never exclude anyone, because of their faith, colour or religion..
We are really excited about being 'chaplains' and will share with you throughout the year.
On Monday 6th October we had our harvest liturgy for our whole school. We are very happy and want to thank all our families for sharing their food with us. We thanked God for our wonderful earth that He has made, for all the crops which provide us with food and we shared all the food with the needy in Leicester. Marguerite in Oak class wrote 'I think the harvest liturgy was very very good. I liked it because everyone was involved. We brought food to the harvest table, thanked God and sang lots of hymns'.
Written by Year 6 Oak Class.