Phonics at our school
At Sacred Heart we follow the Letters and Sounds phases for teaching phonics. We use phrases alongside each sound to help the children have a hook for learning each sound. Each phonic session revisits sounds which the children have previously learnt and then introduces the next sound in the phase they are working in. We follow a four part lessons; revisit and review, teach, practice and apply. Children are encouraged to practice and apply the new phonic skills they have learnt through both reading and writing words. Phonics sessions are discretely taught from Foundation 1 to year 2. When children are in year 3 on wards those who need support in this area will work in a phonics intervention to build on their knowledge and understanding from the previous key stage.
We run parent workshops in Foundation Stage, where parents are given more information about what Phonics are and how it helps their child to develop their reading skills. In year 1 a parent workshop is run in the Autumn term to share information regarding the Phonics Screening Check that the children will take in the Summer term. We encourage children to use their phonics when reading both in school and at home.
The rationale and order that we teach phonics is attached below
Programme Overview Reception And Year 1
When your child starts in F1 or F2, you will have a chance to learn more about phonics teaching from their teacher. Please practice at home with them- children learn much quicker if this happens!
Reading at our school
Our new library!
Our new library is now open- see the photos below. Each class has a time during the week where they can sit on the cushions and listen to their teacher read to them.
Mrs Hayles has shown each class how to use the library and each class will get the chance to join Mrs Hayles or Mrs James one lunchtime each week to hear or story, take their AR quiz or just read!
Our very first reading bookmark raffle- we now do this LIVE over zoom every two weeks and it is always very exciting!!!
Children are encouraged to love books and read for pleasure. With this in mind, children are given many opportunities throughout the day in which they can read, on their own, in a group or with the whole class. Reading at home is also crucial.
This year, we have introduced the Accelerated Reader programme with years 2 to 6. With AR, children read a book and then take a comprehension quiz about it as soon as possible. This is all completed online and children are given regular feedback on how they have done. The programme also adds up how many words each child has read so far in the year. We have a competition ongoing where we are waiting for our first 'Word Millionaire' to emerge- this person will be taken to a book shop and will be allowed to choose books which reach up to the top of their leg!!!! It's all very exciting.
I have attached the PowerPoint presentation, used in the 2 parent's meetings, for more information.
Our First Millionaire reader was Charity and she won this many books!!!!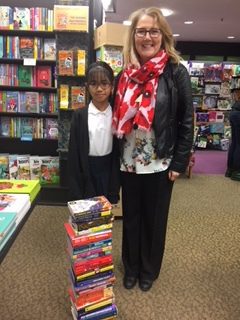 English across the whole school – Please see individual pages for each year group