Year 6 Leavers Liturgy
Wider Curriculum in Year 6
Year 6 Team Building at Beaumanor Hall
Spaghetti and Marshmallow Challenge
What is the tallest tower you can build using only spaghetti and marshmallows?
We had to work collaboratively in teams to rise to the challenge. Here are some of our constructions.....
Year 6 visit Mere Lane Riding School, Oadby
As part of our topic on 'War Horse,' we visited a wonderful riding school in Oadby. We groomed Tommy and Frank (two spectacular horses); we brushed them and watched them eat. Next, we cleaned out the stables (rather smelly). After that , we also got a chance to ride amazing horses. We had a brilliant time!! (By M. and J. Hawthorn Class)
All of us in Year 6 enjoyed a visit from students studying Maths at Leicester University. We were given the task of designing a theme park, with the extra challenge of cutting down costs and making as much profit as possible. Working in groups, we calculated the money spent and total profit made in our designs.
our time in year 5
READING BUDDIES - YEAR 5 and YEAR 1
Welcome to Atlas of Adventures! Can we persuade you to come and visit?
Year 5 are in the middle of an exciting literacy topic which is taking us all over the world! We have been down the Zambezi River, visited the Amazon River and imagined what it would be like to raft down the river in the Grand Canyon! We have only just begun designing our dream resorts, so watch this space for some persuading arguments! Who's resort will you want to visit? Could it be Holly's or should it be Rowans? We'll let you decide!
Lost Happy Endings - Literacy
For our writing project year 5 were reading a book called 'Lost Happy Endings' by Carol Ann Duffy. They all worked really hard and even used talk 4 writing to recreate and perform a piece of the text. The writing they produced at the end of the topic was fantastic! All of the adults in year 5 were really proud of them! Well done Holly and Rowan!
Special mention to the AMAZING Mrs Pathan for her wonderful displays! They really make our topics come to life! Thanks Mrs.P. :-)
For our 'Live' Literacy unit we had to turn ourselves into rap stars (complete with our own instruments!) If Simon Cowell was here, he would have definitely put us through to the next round! We had to plan and perform our own raps as well as make our own junk model instruments.
In the words of Simon Cowell 'I didn't like it...I LOVED it!' Well done year 5, you are definitely a 'sick group of kidz wiv mad skillz innit!'
Catholic Schools Concert for Menphys
at De Montfort Hall
Sacred Heart make FRONT PAGE NEWS!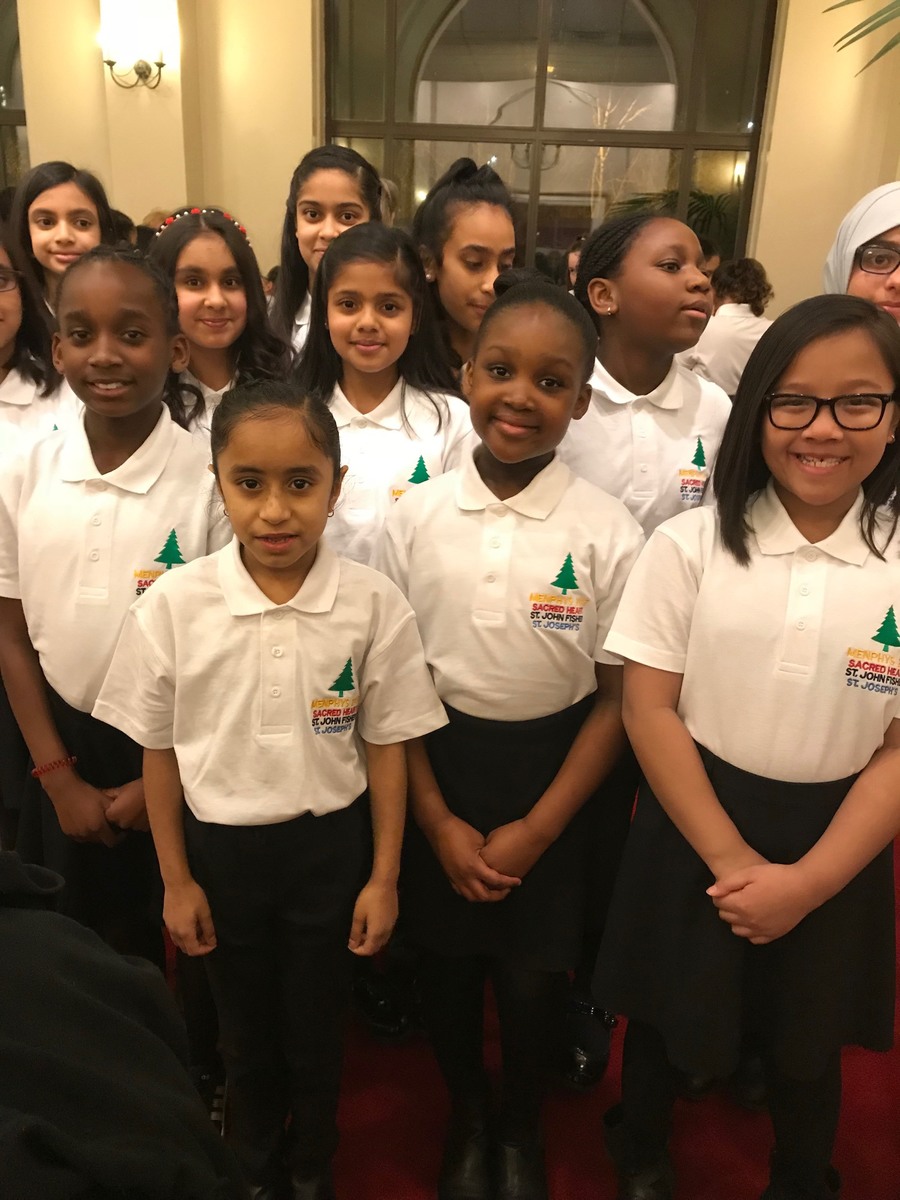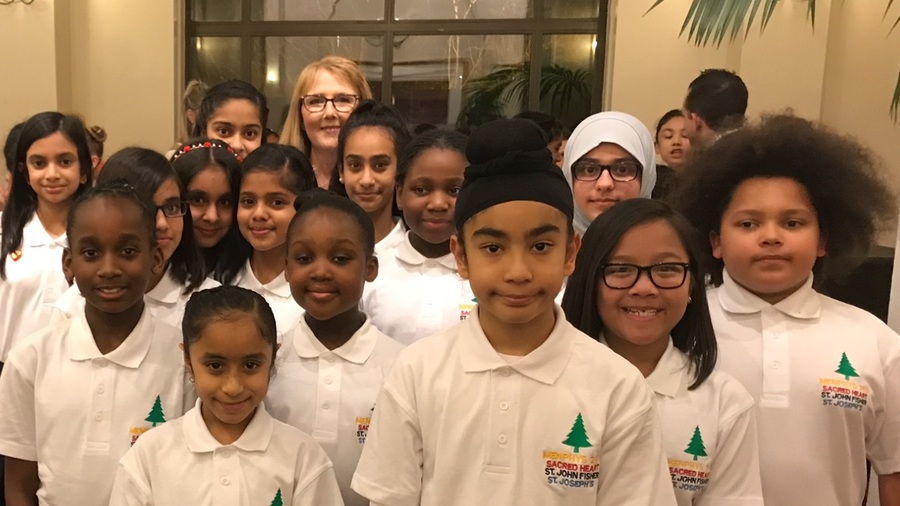 Recorder Mondays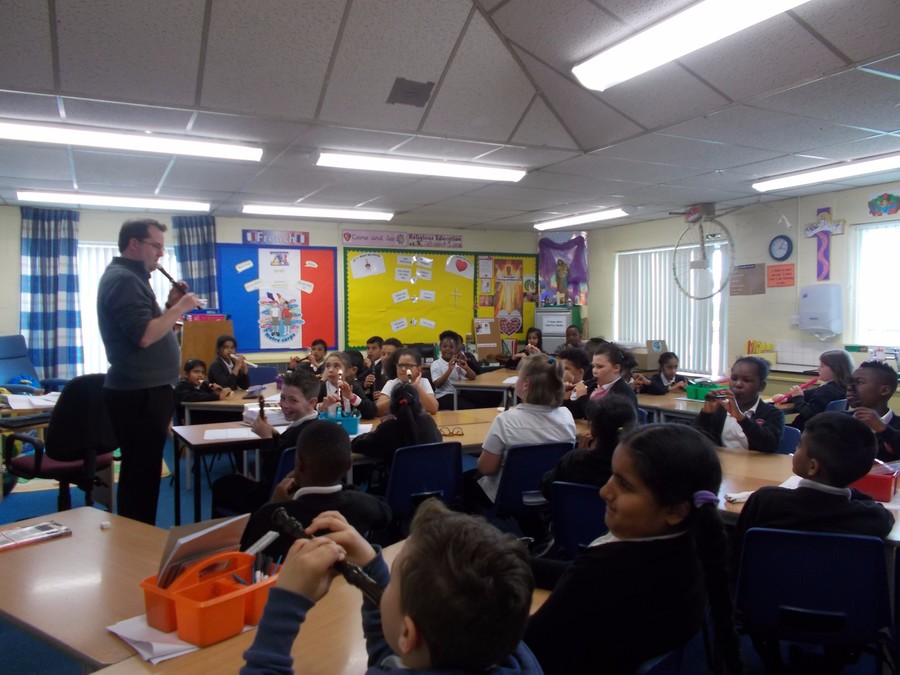 In our second week of Recorder lessons we managed to play a short tune 'Mary had a little lamb'.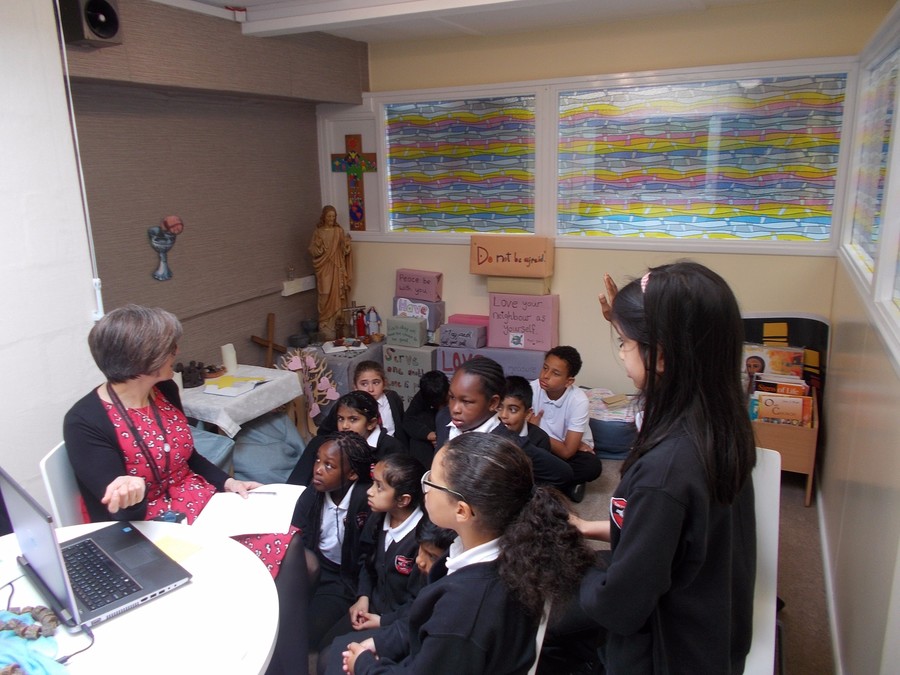 Literacy: Non-Chronological Reports
During Literacy we explored the Shang Dynasty. The students had to respond to the ' Big Question' - Did the Shang Dynasty really exist? They did this by reading an eBook and did research on the Internet to look for evidence. They collated the evidence they found and as a team made posters which then lead them to writing their reports.