Welcome to Year 6
Ash and Oak classes
School Closure: Home learning
While you are working at home, we have posted some work for you. We will also email the work directly to you.
Go back to the School web site home page, log into the site, then follow the links to Year 6 Oak / Ash in the 'Learn ' button.
Year 6 Curriculum Plans
On our return to school after lockdown, week 24 will now be an 'Assessment Week'.
In English , our 'Narrative: Leon' Unit of work will be adjusted to two weeks (week 25 and 26) and
in Maths , our Measures; Perimeter, Area and Volume' Unit will be adjusted to 1 week (week 23) accordingly.
Year 6 English Curriculum Plan
Year 6 Maths Curriculum Plan
Year 6 Wider Curriculum Plan
Links to useful Web Sites:
Weekly Class Liturgy
The children really enjoy planning their weekly Liturgy in Year 6. We discuss together and choose how they would like to 'Gather', what 'Word' we should read from the Bible, our 'Response' and our 'Mission'. Our class chaplains help us each week by reading the Church's theme from the ORDO.
Today we were lucky enough to receive a visit from the Briars Youth Team! We learnt all about hope and expectations which we have been learning about in RE as well! We hope they come to visit again soon!
Anti-bullying week
As part of anti-bullying week, the whole school designed posters to remind everyone of our shared values and help us to unite against bullying. From each Key Stage, Mrs James chose a winning poster. We are proud to say that Olivia in Ash won in our Key Stage! :D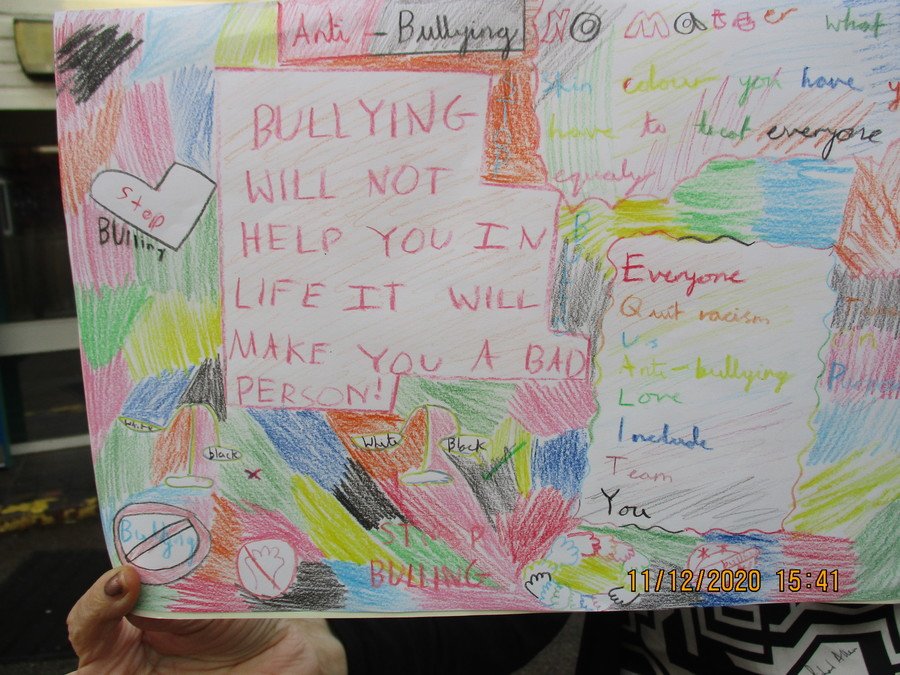 Art and Design! The children have been learning new skills and techniques to help them sculpt clay. The children created sculptures of heads and then evaluated what they thought went well and what they found difficult.
Music Time! The children really enjoyed working together to compose and perform their own music using their voice and body as instruments.
Through role play, Year 6 have been learning about the impact of legal and illegal drugs, alcohol and smoking on the body. The children have been exploring peer pressure and preparing themselves for how they can address this.
This year, all adults will become organ donors unless they opt out. Reasons For and Against.
As part of our Year 6 Science topic, animals including humans, we have been learning about the circulatory system so we decided to dissect a real lamb's heart to see the different chambers, arteries and valves.
Year 6 have been learning a variety of poetry, discussing themes, similarities and differences as well as poetic techniques.
Practising our speaking and listening skills, we debated the big question "Is the world a better place with mobile phones?" What do you think?
In Science, Year 6 have been investigating Electricity and how components function such as the brightness of bulbs, the loudness or buzzers and the positioning of switches.
During Anti-Bullying week we wore odd socks to show how proud we are of our uniqueness and to celebrate our differences. We also made Anti-Bullying posters to support and inform others.
Ash Class are creative, imaginative inventors who designed their own inventions taking inspiration from some of the most famous and important of all time. They explained how their new invention worked before pitching their ideas to our very own 'Dragons'.
Kingswood 2019
Oak class have imagined what it would be like to interview the Wolf in our current book 'The Eye of the Wolf'.
We 'Hot Seated' in role as the wolf. What would you ask him?
For any parents who were unable to attend the meeting please see the PowerPoint below. Holly will become the new Ash and Rowan will become the new Oak. If you have an concerns feel free to speak to Mrs. Southall or Miss Chapman after school or leave a message for them at the office and they will call you back. Thank you
Our Time in Year 5
Sacred Heart's very own Ancient Egyptian Museum!
We are very proud of our year 5. They successfully turned our school hall into a wonderful museum celebrating all things Egyptian! The children completed homework projects, wrote newspaper reports, placed themselves in the shoes of Lord Carnarvon and Howard Carter and were extremely well behaved escorting parents around the museum. A MASSIVE thank you to all the parents who managed to come and support the children (you have no idea how much it meant to them). To those parents who due to work or other commitments and therefore could not attend, we do hope this slideshow will make you feel part of the experience. Well done year 5!
New Walk Museum - All things Egyptian!
Year 5 were very well behaved on their trip to the New Walk Museum as part of their history unit. They looked at ancient artifacts, studied mummies and sarcophagus' and even took part in a bit of role play and dressed up as the Ancient Egyptians. It was a fabulous day organised by the wonderful Mrs McMillan. The children hopefully gained lots of ideas ready for when they open up their own museum in school. Watch this space!
Year 5 were lucky enough to have some visitors from Leicester University come into school and teach them a science lesson. They had great fun looking through mircoscopes and discovering what it is like to view items in great detail. They also made their very own slides to take home.
Our WW2 trip to Beaumanor Hall
Rowan had fun writing and practicing our performance poetry!
Leading our own Liturgies
our time in year 4
Year 4 had great fun at St Paul's school in May. We competed in the Toplinks festival and came second out of five schools! Look at some of the fun we had.....
In both Year 4 classes, we have been converting analogue to digital time and vice versa.....
In RE, Poplar class have been learning to give similar advice to St Paul's in his New Testament letters in order to resolve peer conflicts. The children enjoyed taking on the character of Paul in our role plays.....